I was reading an article on politics and got tired of seeing another writer proclaiming the self-evident need for the government to engage in "charity"-- but
does it
? When a government makes payment to individuals, is that really "charity"? I have to say no. In, fact, it is the opposite.
When the government helps someone, it is not "charity"; it is "welfare" or "the dole". Charity is
voluntary
. Welfare is
coercive redistribution
. Voluntary action and coerced action are opposites -- you cannot use Welfare and Charity interchangeably, since they are actually mortal enemies.
Let me give you an example. If I see that my neighbor is hungry, I have two choices: I can help him or not. If I choose to help him, I engage in
charity
. What governs my choice? My estimate of his worth and the degree to which I feel his suffering is an
injustice
. If his house burnt down or someone robbed him, if he had some unfortunate illness, or if the factory that employed him was shut down for its carbon footprint -- if he was a victim of some circumstance not of his own making and was working to get out of it -- I am likely to choose to assist him gladly.
This assistance is not my grudging performance of duty, but my benevolence and love for my fellow men -- which I feel to the degree of their personal virtue and the closeness of our relationship. However, if I see that my neighbor drinks away his paycheck, destroys his property through indifference and negligence, can't hold down a job because he doesn't show up or is incompetent -- if I see that he slept through school, never cracked a book and is generally a no-good jerk -- my choice is likely to let
justice
take its course and
not to stand between him and the consequences of his own actions
.
In this way, voluntary individual charity reinforces virtue among citizens.
Even charity must be paid for, and the payment is personal virtue.
You
earn
charity by
deserving it
.
Welfare does not consider the character of the recipient. Rather than providing payments to those that only suffer unjustly, welfare provides payment without the requirement of virtue and often to those who do not rate assistance at all. Often, welfare even denies payment to those who show too much productive ability and not enough "need". The less you deserve welfare, the more likely you are to get it. In true Kantian fashion, it dutifully gives values away
without payment of any kind
. Welfare is the epitome of sacrifice -- and the opposite of justice.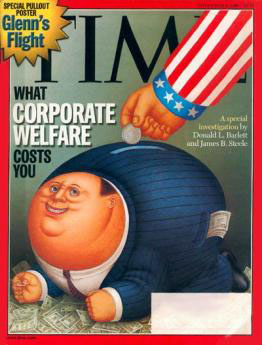 We have implemented a system by which my neighbor demands charity as his
right
, as his
due
. He demands not only cash in an emergency but payments year round and lifelong -- from universal pre-K to "free" health care to food stamps to corporate bailouts. Corporate bailouts are a logical consequence of the welfare state; The powers we gave to the government to assist "the poor"
are the same powers that are used for welfare to corporations with political pull
. The tax laws instituted to help the American indigents also enable wealth to be taken for the unearned benefit of foreign indigents and friendly dictators alike. We've violated property rights, and so our system has become a game of who can grab the most before he is voted out and replaced with the opposing gang. You can't have corporate welfare without individual welfare. You cannot violate property rights for the poor without also violating them for the strong. Once a principle is violated, anything goes. This is the reason why, in America, the poor get poorer and the rich get richer: they are each subsidized, giving an unfair advantage to the powerful and an incentive towards dependancy to the weak.
But the issue isn't only practical, it's primarily
moral
.
Government "charity" goes over the heads of the individuals who earn and produce -- it invalidates their judgement about who is deserving and who is not. It FORCES some men to involuntarily sustain the lives of others. It forces me to support and sustain people I don't know and will never know. It is indifferent to my values and contemptuous of my consent. It takes my cash and gives it to some recipient I can never judge. I will never know if I am involuntarily supporting a potential friend or whether my money is being funneled to someone who is standing on street corners preaching the destruction of everything I love.
Welfare is diametrically opposed to the principle of
justice,
which is why that is the very word the left adopts and distorts; "social justice" is a thing altogether different than true justice. It is an attempt to get for men by force what they could not get voluntarily. It enables my crooked and lazy neighbor to get from me at the point of a gun the wealth and services I would never give him otherwise. It enables him to go on being crooked and lazy without end, without consequences,
without facing moral judgement from the people who are supporting him
.
The vaunted "safety net" is not protection from physical harm, it's a protection from
moral consequence
s. It allows a man to have his needs met without accepting responsibility for his own life. It's worse then outright theft; a burglar at least acknowledges that I own my property and that he is engaged in thieving -- he sneaks around, hopes I won't catch him, and grants that the police have the right to capture him, punish him, and return my property to me. But the welfare recipient claims his loot
by right
-- he's not stealing bread, assisted housing or health care from me directly and so does not acknowledge it as theft. He receives it safely laundered through the magic of having it extorted from me by a third party, the taxman.
He is absolved of considering me at all -- whether that money could buy me an extra meal or my children's education or pay for my funeral -- he doesn't have to care where the money came from or to consider my needs -- only to proclaim his own needs and demand assistance by right. He doesn't have to look me in the eye and ask for help. He doesn't ask my consent at all. He doesn't have to think of where the money came from; whether I worked overtime to earn it, whether it was my inheritance or whether I saved it penny by penny through a lifetime of scrupulously competent labor. The welfare recipient doesn't have to consider me in the slightest -- I am safely offstage, out of sight, out of mind. I am not present to judge him, to question him, to estimate his worth. He takes my money without having to deserve it. He takes my money without even the necessity of having to say "thank you".
That is the whole motivation and result of your government programs: to remove ever more freedom, gratitude, justice, consideration, friendship, judgement, morality, virtue, and reason from this world: to enable lazy men to evade the fact that things in this life are ultimately paid for by work, by virtue, by ambition and thought. To take with guns what justice will not render.
I suggest you rethink the nature of charity and ask yourself whether the government is actually helping people or whether it is corrupting the concept of "charity" and hurrying the destruction of everything good, benevolent and just in this world.
-Richard Gleaves